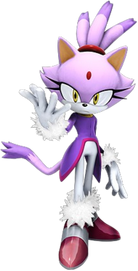 Blaze
(voiced by Laura Bailey) is a female cat from the Sol Demention. She is Silver's friend and the guardien of the Sol Emeralds. Blaze's special skills involve the power of the flame. Just like Sonic, Blaze uses the Sol Emeralds to turn into Burning Blaze.
Trivia
Blaze the Cat is a member of the Jeffrey & Friends' Adventures team, a adventure team made by Tigerman531.
Blaze seems to have a connection to June the Cat. It's currently unknown what that connection is.
Ad blocker interference detected!
Wikia is a free-to-use site that makes money from advertising. We have a modified experience for viewers using ad blockers

Wikia is not accessible if you've made further modifications. Remove the custom ad blocker rule(s) and the page will load as expected.