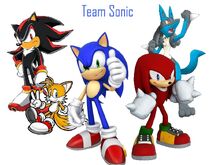 These are the Characters invovled with the Sonic Adventure series.
Main Characters
Team Sonic
Other Members
Pokemon Friends
Pikachu
Piplup
Shiny Riolu
Dialga
Palkia
Girtina
Shaymin
Ash's Pokemon
Dawn's Pokemon
Brock's Pokemon
Mewtwo
Kyurem
Zekrom
Reshiram
Other Legendary Pokemon
Villains
The villians and foe that Sonic and his Friends have to out wit
Zomba
Sophie Anne
Shere Khan
Captian Hook
Jafar
Bowser jr.
Hades
Urusla
Clayton
Duke of Owls
Marcus
Zero
The Jabberwock
Knave of Hearts
Scar
Mephiles (Crystal Form)
Organization XIII
Peter Friedkin (Deceased)
Cato (Deceased)
Clove (Deceased)
Jadius the White Witch (Deceased)
The Reginald (Formerly)
Dusknoir
Darth Maul
Lord Zedd
Cyberleader
Dr. Nerfarious
Charman Drek
Thugs-4-Less leader
The Master
Joker
Scarecrow
Negaduck
Phantom Blot
The Wastleland Queen of Hearts
King Hippo
Eggplant Wizard
Lex Luthor
Darksied
Rez
Jenner
Governor Ratcliffe
The Toad
Ruber
Mother Gothel
Steele
Ad blocker interference detected!
Wikia is a free-to-use site that makes money from advertising. We have a modified experience for viewers using ad blockers

Wikia is not accessible if you've made further modifications. Remove the custom ad blocker rule(s) and the page will load as expected.