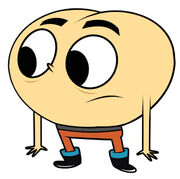 Zack Freeman's butt - The recruiter of the midnight butt rally, threatening to fill a Buttcano and knocking every human out on Earth to rearrange the place of heads and butts. Zack's butt is shocked by finding out that the Great White Butt was lying about the rearrangements and ends up becoming Zack's best friend.
Ad blocker interference detected!
Wikia is a free-to-use site that makes money from advertising. We have a modified experience for viewers using ad blockers

Wikia is not accessible if you've made further modifications. Remove the custom ad blocker rule(s) and the page will load as expected.