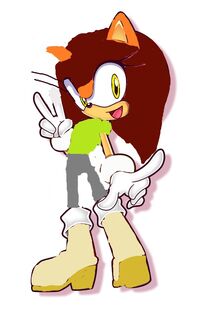 Julie
is the fearless leader of Team Sonic.
Close Relationships
She and Nick have a weird awkward love. Since Julie kissed Nick in Julie gets Tested, Nick wants her to be his girlfriend, but Julie pretends that the kiss never happened.
Even though Sonic doesn't know that Julie is his long lost sister, she'll always protecting him and helping him no matter what.
Julie used to have a crush on Eddy when she first met him until Eddy dates Kelly and starts to hate him and not talking to him forever. But when Eddy breaks up with Kelly, she and Eddy are friends again.
Julie's first ghost best friend. Harmony always annoys Julie a lot, but they get along just fine. When Harmony earned her wings, Harmony will always be in Julie's heart.
Julie has been childhood friends with Jak since she met him when they were young, back when Jak's was called Mar, but since Darrienne took Jak, she was sent to a foster home and vows to find him when she gets older. Until Damas' untimely death, she has found Jak this whole time.
Frienships
TBA
TBA
TBA
Roxas
TBA
Xion
TBA
Axel
TBA
TBA
TBA
TBA
Rival Relationships
Julie despise Thomas so much since they met. But they are trying to be friends, but it's kinda difficult.
Ad blocker interference detected!
Wikia is a free-to-use site that makes money from advertising. We have a modified experience for viewers using ad blockers

Wikia is not accessible if you've made further modifications. Remove the custom ad blocker rule(s) and the page will load as expected.