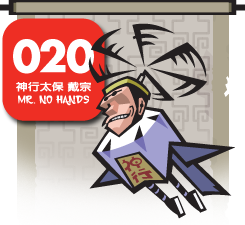 Mr. No Hands is the military leader of Big Green's First Squad. He is a strict but kind-hearted human who is easily irritated by the strong-willed warriors under his charge. The tassel of his hat is capable of spinning like a helicopter, allowing him to fly. The hat itself can shoot dangerous darts at his enemies. He keeps himself in a stockade because he cannot stop tickling himself if his hands were free. He also does not go on missions as often as the rest of First Squad. In some episodes, it is revealed that Mr. No Hands has athlete's foot and would often soak his feet in hot water. He's very athletic and brave, but can also be grouchy and impatient too.
Movies he appeares in
Sonic the Hedgehog goes to Hotel Translvania
Sonic Unleashed (Cameron Version)
Sonic Storm Adventures of The Hunger Games
Ad blocker interference detected!
Wikia is a free-to-use site that makes money from advertising. We have a modified experience for viewers using ad blockers

Wikia is not accessible if you've made further modifications. Remove the custom ad blocker rule(s) and the page will load as expected.