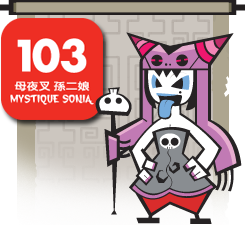 Mystique Sonia is a tough, seasoned warrior. She is usually bickering with Mighty Ray. She can use her long tongue in battle to fight off enemies, using it like a whip and spinning it around to produce winds. Yaksha can also pull out a shard of ice which Mystique Sonia blows on it with her spinning tongue in order to produce strong and cold winds that freeze her opponents. She possesses seeds that grow freshly cooked buns when she spits on them for food. She can also play the flute. She likes flowers, decorations, and other pretty things. While powerful, she is also a total girl. It is not unheard of her for to take down Mighty Ray in a wrestling competition and then decide to redecorate the First Squad Briefing Room. Mystique Sonia is admired by many boy heroes, especially by the soldiers in the Big Green Army. The Sailor Brothers have a terrible crush on her as well. But woe to the one who tells Mystique Sonia he loves her. Since she is cursed with a spell, anyone who tells her he loves her three times in a row turns into a Yaksha. Mystique Sonia has a soft spot in her heart for animals and is very fond of both Elephant and Panda Kings, as well as the Turtle Cannons. Sonia often feeds First Squad by growing magic buns. She has many different kinds of seeds that she throws on the ground. When Mystique Sonia spits on these seeds they instantly grow and provide various powers. Mighty Ray and Mystique Sonia have an interesting relationship. We suspect they actually like each other very much, but they squabble like siblings and are always competing against with each other.
Gallery
Ad blocker interference detected!
Wikia is a free-to-use site that makes money from advertising. We have a modified experience for viewers using ad blockers

Wikia is not accessible if you've made further modifications. Remove the custom ad blocker rule(s) and the page will load as expected.