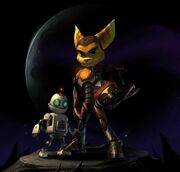 Ratchet and Clank
are the universe saving duo.
Ratchet and Clank
Ratchet- Ratchet is a Lombax who was sent to Veldin from Fastoon by his Father to save him from Emperor Percival Tachyon. One day he was working on a home-made ship and waiting to travel new worlds. But Soon enough his life changes when he meets the diminutive robot fugitive named Clank. From there on, he and the small robot adventure throughout the universe, saving it on many occasions. Rathcet tends to be headstrong and usuallly is not afraid to voice his opinion. He tends to have a short temper, which fades later on. At the same time, he often appears concerned with how people view him. He sometimes shows jealousy over Clanks Notoriety.
Clank- Clank is Ratchet's Robot Friend. After meeting Ratchet, they travel various planets trying to stop the goals of many villians that they encounter.
Trivia
Ratchet and Clank is cooperraymer's Favorite Video Game Franchise for the Playstation 2 & 3.
Ad blocker interference detected!
Wikia is a free-to-use site that makes money from advertising. We have a modified experience for viewers using ad blockers

Wikia is not accessible if you've made further modifications. Remove the custom ad blocker rule(s) and the page will load as expected.