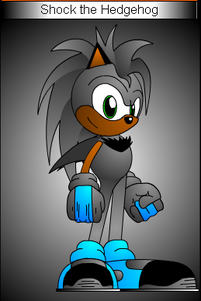 Shock is a hedgehog from an unknown timeline. He is in love with Luna.
Trivia
This is Darkblood234's fursona. It connects with him because he is in love with Luna the Hedgehog, who is Cameron33268110.
It is unknown at this time if Shock has psychic powers like Silver.
It is confirmed that Shock has a Super form.
Ad blocker interference detected!
Wikia is a free-to-use site that makes money from advertising. We have a modified experience for viewers using ad blockers

Wikia is not accessible if you've made further modifications. Remove the custom ad blocker rule(s) and the page will load as expected.