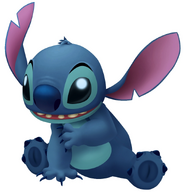 This is Stitch aka Experiemnt 626. Stitch is a blue alien genetic creation standing around 2 feet tall. He strongly resembles a koala, or a french bulldog, as he is referred to as a dog throughout much of the franchise. He has a limited ability to change his physical appearance, as he can retract a second set of arms, his claw, his antennae and the three spikes on his back into his body
History
Stitch was created by "evil genius" Dr. Jumba Jookiba, who called him "Experiment 626". Both Jumba and Stitch were captured and put on trial by the United Galactic federation.
626 is then sentenced by the Grand Councilwoman to life imprisonment on a desert asteroid and Captain Gantu (who despises him) escorts him. Stitch escapes and crash-lands in Kaua'i, Hawaii. Disguising himself as a dog to hide from his captors, 626 was adopted by a little girl named Lilo, who names him "Stitch".
Stitch is trained by Lilo to be good, using Elvis Presley as a model for his behavior. Lilo's efforts prove to be fruitless at first, as Stitch is unable to suppress his destructive programming. Nevertheless, Lilo enjoys her new "puppy". Although at first he only wanted to use the girl as a human shield from Jumba and Agent Pleakley, whose mission is to capture the fugitive experiment, Stitch slowly develops feelings for Lilo, to the point where he saves her from Gantu. After his heroics, the Grand Councilwoman allows Stitch to serve his exile on Earth with Lilo as his warder, citing her dog adoption certificate (subsequently, Lilo seems to have become not only a best friend but also a sister figure to Stitch).