Tom and Jerry
are known as the greatest duo of animation history.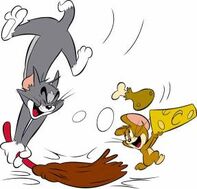 Info
Tom and Jerry are both characters from the famous series which is named after they're names. Even though sometimes enemies, they can get along some times and are really useful allies. They make an apperance in Sonic's Adventure of 101 Dalmatians a movie which is not yet created. It is possible they'll join the team or not but in the preview, it showed both of them helping the dalmatians, so there's a easy chance they'll join.
Movies they appear in:
Sonic's Journey Back to Oz
Ad blocker interference detected!
Wikia is a free-to-use site that makes money from advertising. We have a modified experience for viewers using ad blockers

Wikia is not accessible if you've made further modifications. Remove the custom ad blocker rule(s) and the page will load as expected.